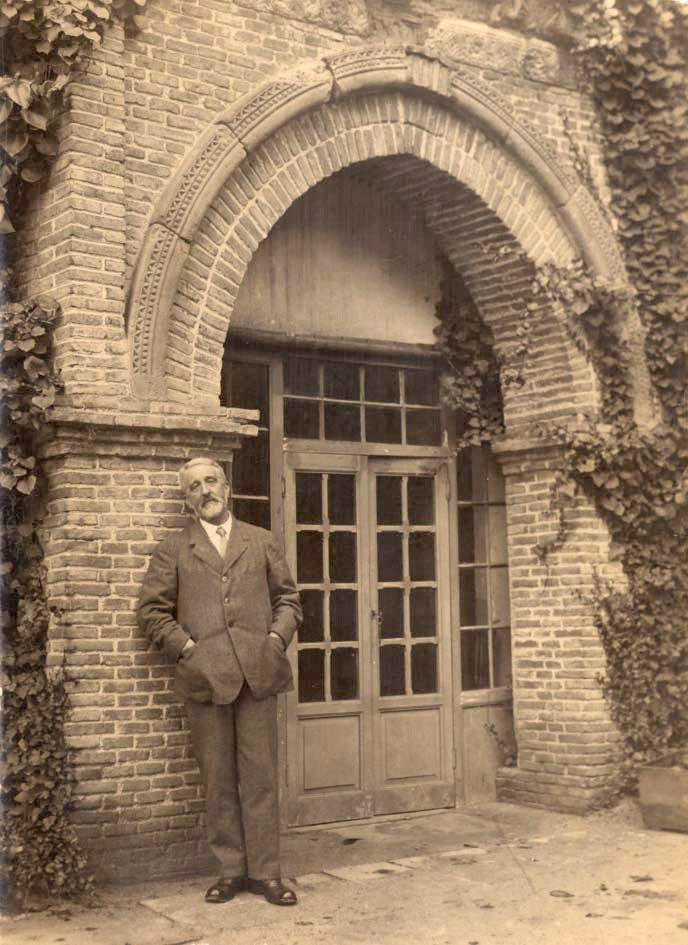 Manuel B. Cossío delante del arco mudéjar del jardín de la Institución Libre de Enseñanza, Madrid, años veinte. Fundación Francisco Giner de los Ríos, Madrid.
«The Academy has soul. A soul without freedom won't bloom»
«If the academy does not come across in life and opens its windows wide-open to nature, it is dead».
Manuel B. Cossío
Manuel B. Cossío's career cannot be isolated from the Institución Libre de Enseñanza, which works as a framework when dealing with his biography and educational and artistic interests. It was there where he put into practice his peculiar determination to cultivate artistic sensibility in order to awake the different potentialities of the students. He was sheltered by his positive motto «el arte de saber ver» that was published in an article in the Boletín de la Institución Libre de Enseñanza (1879). This was, somehow, a way to express that his beliefs were rooted in the harmonic rationalism of the German philosopher Karl Christian Friedrich Krause, whose aesthetic treatise was studied and translated into Spanish by Francisco Giner de los Ríos. Cossío was also very fond of different Anglo-Saxon figures, such as William Morris or John Ruskin, who share with Cossío their way of addressing the artistic medium.
In order to set these ideas in motion, Manuel B. Cossío started organizing excursions, which made the ILE become the most advanced school in Europe. These trips were, according to Cossío's words, «essential elements of the intuitive process» since they provided «the most favourable ways and means for the students and their education in every field of their life". Besides, apart from providing knowledge on several matters and a greater refinement in their sentiments and perception, the excursions fostered the love for the country, which was one of the main concerns of the ILE: to visit Spain and share knowledge related to the country.